High Pressure Hydraulic Hoses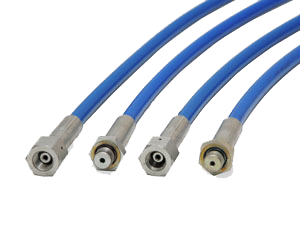 Hydraulic hose is specifically designed to convey hydraulic fluid to or among hydraulic components, valves, actuators, and tools. It is typically flexible, often reinforced and usually constructed with several layers of reinforcement since hydraulic systems frequently operate at high or very high pressures.
What is High Pressure Hydraulic Hoses ?
High Pressure Hydraulic Hoses are flexible tube which is used for high pressure hydraulic applications needing abrasion resistance. It is designed to be used if high pressure and more flexible hose is required. In addition, they have excellent impulse efficiency and flexibility. All problems related to the design and application of hydraulic installations are classified as high pressure hydraulics. The idea behind hydraulics is to convert the energy of hydraulic fluid into mechanical energy. The last is the movement of components like actuators, hydraulic motors etc. High pressure hydraulic hoses are mainly used by businesses in the heavy and mining industry. Our strict control over every manufacturing process, we are able to manufacture high-pressure hydraulic hoses that are compliant with the globally accepted SAE, J517, EN853 and EN857 standards.
Ultra high pressure hoses for hydraulics are spiraled steel reinforced polymers with ultra-high-pressure with retained elasticity. Its low volumetric expansion gives a quick response time in the hydraulic system while the smooth inner bore reduces the pressure to a minimum. The small outer diameter makes the tube ideal for tight passages. Each assembled kit is cut to your desired length, fitted with one of our wide range of fittings and high-pressure couplings. In addition to standard high-pressure hydraulic hoses, we have developed high quality four level spiral hoses, which are more flexible and more resistant to pressure or friction, making them more suitable for modern, compact machinery. High pressure hydraulic hoses offer high safety components and accurate construction standards that make them suitable for use in demanding applications. It can make quality complete hoses Handle a working pressure of 700 bar and fasten with a polyurethane outer jacket, which will protect these tubes from the possibility of friction. Some of its features include providing maximum friction resistance, low volumetric expansion under pressure, improved service life and durability, reinforcement by high-tensile steel wire braids and others. our high pressure hydraulic hoses provide the vital, high quality, safe connection for your hydraulic equipment.
Types of High Pressure Hydraulic Hoses
High pressure hydraulic hoses are also used in logging, road construction, agriculture, mining and oil and gas industries. Types of High Pressure Hydraulic Hoses are listed bellow
Compact High Pressure Hydraulic Hose

SAE Standard Hydraulic Hose

EN Standard Hydraulic Hose

Low Pressure Hydraulic Hose

Wire Braid Hydraulic Hose

Spiral Wire Hydraulic Hose

Thermoplastic Hydraulic Hose

Standard High Pressure Hydraulic Hose
Features of High Pressure Hydraulic Hoses
Hydraulic hoses may incorporate different features based on construction or specific application needs. we are leading High Pressure Hydraulic Hoses manufacture in pune. check features of High Pressure Hydraulic Hoses bellow.
Lay-flat - Lay-flat hose is designed to default to a flat, collapsed structure when not filled with fluid. This feature makes hose easier to store, and more flexible and forgiving while in service.
Anti static - Hoses are conductive or semi-conductive to prevent the buildup of static electricity.
Flame resistant - Hoses are constructed to maintain their integrity in the presence of flame or fire.
We offer a wide range of high pressure hoses developed using quality rubber which are available in a variety of sizes, our range is used to deliver liquids or gases under pressure. we are best High Pressure Hydraulic Hoses Manufacturer in Pune . we supply our High Pressure Hydraulic Hoses in pune, India. to know about high pressure hydraulic hoses contact us Now.