Silicon Hoses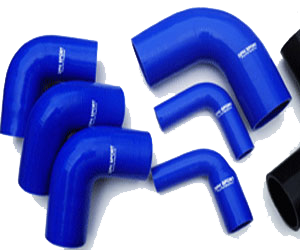 We supply silicon braided hoses that are appreciated for its high strength. Our silicon braided hoses are available in 3mm to 25mm bore sizes in coils up to 25 to 50m.
What is Silicon Hoses ?
The silicone hose is a flexible tubes or pipes made from various formulations of silicone rubber. Those products exhibit unique properties of silicone materials including working temperature, flexibility, stability and resistance to many chemicals. Silicone hoses are capable of carrying liquids at temperatures higher than rubber. If you are building a racing vehicle or adding a turbocharger to your engine, silicone is the best way to go. Compared to standard EPDM rubber hoses, our hoses have a maximum temperature of 350F (177 C) and a maximum temperature of 257 F (125 C). This is a difference of about a hundred degrees. Silicone hoses can be laminated with woven reinforcement fibers for pressurized applications or left planes for nominal pressure applications. Silicone tubing is used in a variety of applications requiring heavy, temperature resistant products in the medical, automotive, chemical and food processing industries.
The physicochemical properties of silicon hoses depend on their composition. Because manufacturers offer rubber types as well as different fillers, cross-linking agents and other components, but also different processing methods, it is possible to match the characteristics of the silicone tube to specific operating conditions and customer expectations. Silicone is a very stable material that works even when it is almost new. While rubber hoses are prone to cracking, stiffening or dry rot over time, the elasticity of silicone is less likely. Anyone who has had a hose leak will know what a headache it is to diagnose and correct it, so upgrading to silicone will definitely have a positive effect on performance.
Silicone rubber is a versatile material containing silicon, carbon, hydrogen, and oxygen. It is thermally stable and can be used in applications with temperatures from -67° to 570°F (-55° to 300°C). It is resistant to various chemicals and prolonged exposure to ozone and ultraviolet. In addition, silicone rubber products have good mechanical properties and they stand up to stretching, compression and tearing. However, silicon rubber has a lower tensile strength than other rubber compounds. The resistance of the material makes it suitable for many different devices, but some important properties are especially useful in the healthcare and pharmaceutical sectors. The silicone hoses are often used as coolant hoses, air hoses, heater hoses, turbocharger hoses, inlet hoses, breather hoses, vacuum hoses etc. These silicone hoses are essential for car manufacturers to meet customer expectations: reliability, fuel efficiency, safety and comfort. Silicone used in transportation must also comply with increasingly stringent quality, environmental and regulatory requirements.
Characteristics of silicone rubber Hoses
Silicon based hoses are typically manufactured using the Hydrogen Peroxide Cure System or Platinum Cure System technology. Some highly advanced applications require healing hoses on platinum rods. To make hoses using the Peroxide Cure system, hydrogen peroxide catalysts must be added to the silicon elastomer, then the two components are mixed to obtain a smooth, homogeneous mixture.There are some basic Characteristics of silicone rubber Hoses are as follows
resistance to both low and high temperatures with only minor changes in physical properties.
dielectric breakdown properties.
good resistance to oxidation.
physiological inertness.
high compressibility and resilience.
tear resistance.
excellent resistance to infrared radiation, ultraviolet radiation, UV and weather conditions.
resistance to low pressure steam up to 3 atm. (high pressure steam causes partial degradation of silicone).
lack of resistance to concentrated acids, alkalis, petrochemical products with aromatic content.
Features of silicone Hoses
Whether use hoses for auto detailing, manufacturing, home brewing or anything else, there are many different types of hose to choose from. Silicon is one of the best tube types for this and many other applications and there are many reasons for this. Check the listed features of silicone hoses bellow:
Low Temperature Flexibility

High Temperature Resistance

Weather Resistance

Compression Set Resistance

Water Resistance

Chemical Resistance

Shape Options

Tasteless and Odorless

Colorful
Our comprehensive range of silicone hoses is suitable for a variety of applications depending on the required burst pressure, elasticity and chemical compatibility. With a choice of ply thickness, most of these hoses are reinforced with wire helix to provide superior durability compared to the Polymax silicone tubing collection. Each hose is specially designed for use in different working environments. we are leading silicone Hoses manufacturers in pune, india. we supply our product all over india and abrod. to know more details about silicon hoses contact us now.